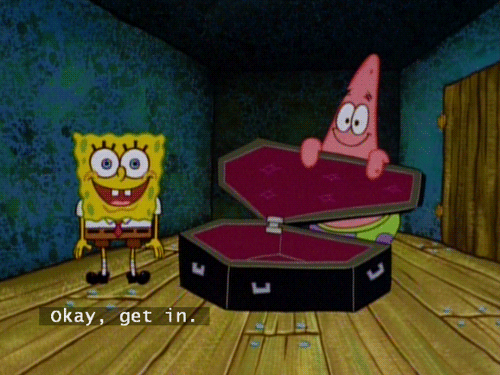 **Disclaimer: Spring Hill is not making fun of or light of death. However, because we are exploring Mourning habits, we thought we'd share this fun, silly, and education guide.
We promise, mourning the Victorian way isn't as difficult as it seems. Just follow our steps below!
1. Someone dies (we suggest waiting and not taking matters into your own hands. As much as it may be nice to think about getting rid of that annoying co-worker).
2. Stop all the cocks in the house (or at least the ones in the room where the death took place). They need to be stopped at the time of death.
3. Clean and dress the body for the wake, then move into the most formal room in the house (most likely the parlor, or living room).
4. Go to the coffin warehouse, or to one of the men in your family, and have a coffin made.
5. Cover all of the mirrors, portraits, and photographs with black crepe fabric. If you really like black, feel free to cover up everything that's shiny. (Mirrors, Portraits and Photographs might steal your soul, or keep the dead one's soul in the house to haunt you).
6. Make sure you have all your mourning clothes! They can be made, purchased, or you can simply dye your told clothes back.
7. Send your funeral invitations.
8. Stark cooking! Wakes and funerals bring lots of people that you have to feed!
9. Bring in your guests for the wake and funeral. Depending on your religious beliefs, be sure to stock up on appropriate food, alcohol, and music!
10. Hold the funeral, either at your home or at graveside. Funerals are short, maybe lasting only 15 minutes.
11. Widows and Widowers stay in mourning for up to two and a half years, with other family members adopting it for shorter periods of time, depending on their relationship to the deceased.
Bonus! Most important, the body can't be left alone at any time! (Just in case anything freaky happens).
Good luck with your Victorian Mourning! And while we recognize that it is often easy to overlook death when it comes to history, or to make light of some very strange customs, death is a part of our life.
—–
Spring Hill is currently hosting a full house exhibit with the home set up similarly as would have been seen in 1854 when Arvine Wales passed away. Come tour the home on Saturdays and Sundays from 1:00-4:00pm. There are two audio tours available for your enjoyment: Victorian Mourning and Hidden Killers of the 1800s Home. 
Tours:
Adults $5.00
Students and Seniors $4.00
5 and Under FREE
Check out our website for information on our upcoming Mourning Arvine Wales programming.